Kawhi Leonard Reportedly Returns to Spurs, Targets March Return from Injury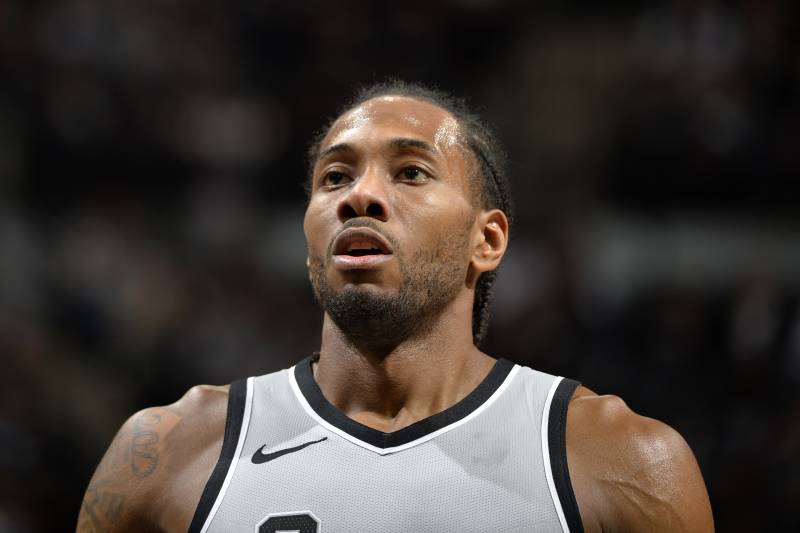 Mark Sobhani/Getty Images
San Antonio Spurs
star
Kawhi Leonard
reportedly will return to the team this week and is hoping to return to game action at some point in March, according to
Michael C. Wright and Adrian Wojnarowski
of ESPN.
Per that report:
"Leonard has returned to San Antonio from

New York

, where he spent three weeks seeking further consultation on a right quad injury that has sidelined him for most of the season, league sources said. Leonard isn't expected to immediately start engaging in full five-on-five practices with his teammates, but the goal is to advance toward that level of engagement in the near future, league sources said."
The report comes less than a week after head coach Gregg Popovich
told reporters
he didn't expect Leonard to play this season.
"I'd be surprised if he returns this season," Popovich said, adding: "If by some chance he [returns] it's going to be pretty late into the season and it'll be a tough decision how late you bring somebody back. That's why I'm trying to be honest and logical. I'll be surprised if he gets back this year."
Wojnarowski
reported on Sunday, meanwhile, that Leonard has been medically cleared to return from his right quad tendinopathy but has chosen to this point to rest the injury, presumably due to the discomfort it has caused him.
Leonard, 26, returned for nine games this season between December and January, averaging just 16.2 points, 4.7 rebounds and 2.0 steals per game. For a player who has emerged as a yearly MVP candidate, it was clear he was less than 100 percent.
Wojnarowski wrote in that report that Leonard's "injury, rehabilitation and timetable for a return has complicated the Spurs' and Leonard's relationship, causing tension and fraying the fabric of what was once a strong partnership."
With Leonard an unrestricted free agent after the 2018-19 season, a frayed relationship between the Spurs and Leonard is surely the last thing the organization wants. Leonard will be the prized jewel in the free-agent class of 2019 should he hit the market.
Without him, the Spurs have still managed to go 36-25, good for third in the Western Conference. But Leonard is the difference between San Antonio being a threat to teams like the Golden State Warriors and Houston Rockets come the postseason and being a non-contender.