Eagles promote Duce Staley to assistant head coach
Duce Staley
agreed to stay with the Philadelphia Eagles for 2018 after losing out on the offensive coordinator position to
Mike Groh
, but the Eagles running backs coach received a nice consolation prize. According to ESPN's Josina Anderson,
Staley received a promotion
with the Eagles...becoming assistant head coach to
Doug Pederson
.
Staley will report to Pederson and will still be in charge of the running backs. With this promotion, the Eagles are grooming Staley for a potential offensive coordinator or head coaching job down the line.
The Eagles are Super Bowl champions! This incredible journey is JUST beginning! Make sure to stay in the loop for all Eagles news throughout the offseason -- take five seconds to sign up for our FREE Eagles newsletter now!
Staley has served as the team's running backs coach for five seasons and seven years as a member of the coaching staff overall.
His meteoric rise to one of the top running back coaches in the NFL came from his seven seasons as a star running back on the Eagles. During his Eagles tenure (1997 to 2003), Staley
combined for 7,305 yards from scrimmage (4,807 rushing, 2,498 receiving) and 32 touchdowns. He had three 1,000-yard seasons.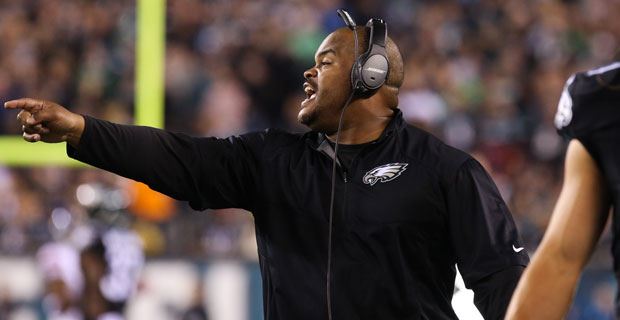 The Eagles had the fifth most rushing yards in the NFL since Staley took the reins as running backs coach and have the fourth-most touchdowns in the NFL. Philadelphia finished third in the NFL in rushing with 132.2 yards per game this season under Staley's guidance, tired for third with 4.5 yards per attempt.
Staley received praise from
Jay Ajayi
and
LeGarrette Blount
, two running backs that voiced for him to get a promotion. Staley wa instrumental in handing both players after Ajayi was traded from Miami to Philadelphia, especially since Blount's role was reduced in the coming weeks.
"He knows defensive schemes inside and out," Blount said
during Super Bowl week. "He studies film relentlessly. He texts us throughout the week and sometimes throughout the night and it's just like, 'Hey man, make sure you look at this, make sure you look at that, make sure you understand this,' so we can go out there and play fast.
"I think he can be an amazing play-caller. Just because he's a running back doesn't mean that he'd be one of those coaches who goes out there and runs the ball 60 times and throws it 15."

Staley will be part of the brain trust with Pederson, Groh, and new quarterbacks coach Press Taylor in game planning and designing plays, part of the responsibilities former offensive coordinator Frank Reich had in Philadelphia.
The Eagles will need to hire a wide receiver coach to replace Groh, filling up all the major coaching positions on the staff.